The Alfa R36 router is no beauty but solid for uncommon conditions. It connects to many UMTS GSM networks and Wifis focusing on signal quality. The interface and feature list are outdated.
Dimensions
The box weights 100g. Dimensions: 10cm x 7,5cm x 2,5cm
I connected a usual high gain Wifi antenna with 15cm length.
Internet connection types
GSM modems with up to 3G UMTS speed are allowed. The vendor provides a list of modems. LTE is not possible. Surf sticks with built in router are not possible, just plain modems. This simplifies the setup, you do not need a web page for setting up GMS. But it also prevents SMS messages.
Alfa has their own USB wifi adapters with large transmitting power. This would be perfect in remote locations. I don't know if this works. I bought two of the recommended adapters and both made no better connections than my phone.
ADSL and Ethernet are also possible but I did not test it.
switching Internet connection
To switch from one Wifi to another or to GSM is some work. This might be fine when staying in the marina, but if you move to new harbours you first have to switch to GSM and after arriving to the new Wifi. I pulled one USB adapter out and the other in every time. Then I had to change many settings in the web interface. Every morning when leaving and every evening when arriving.
Internet connector hardware
For GSM the R36 needs an USB modem. This is a bit unusual but using a modem leads to just one internal network and one web interface making things simple. There is no support of SMS text message or LTE.
For Wifi the R36 needs an external USB adapter. I can be mounted somewhere else, modern tranceivers are possible, so this has some advantages.
SMS
As explained, this is not possible. I had to put the sim card in my phone to read messages from the provider. Very often contract things are sent via SMS so this is a real problem.
Power
There is a 12V plug. As everything in this device, this works even if the supply is not perfect.
Battery
No battery is included. You would need a 12V power bank.
Local network
The device provides a 2,5GHz Wifi with some encryption options. There were never issues. You could change the antenna if you want. There are also two Ethernet sockets.
Operating system
Alpha has it's own proprietary firmware lacking so much features. There are no updates.
Configuration interface
For configuration there is a web interface that looks a bit ugly but works even on small screens. Switching from GSM to Wifi means changing the "WAN Network Settings" to "USB Wireless Card" and then looking for the correct Wifi in different other tables. One a Wifi is added, it is possible to use it again without entering the password.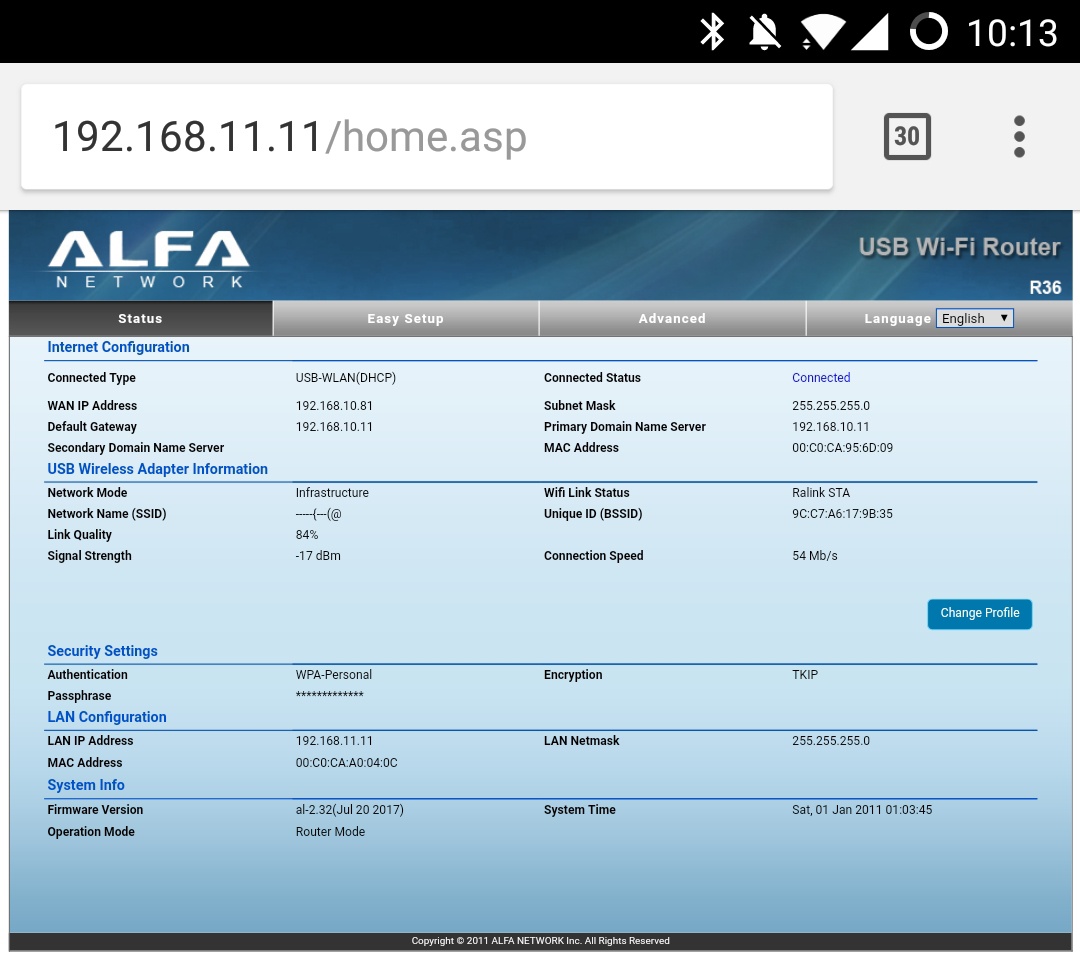 DHCP
It is possible to change the IP address range for DHCP. It is not possible to set a fixed IP address for a server. The "Expires in" for IP address binding sounds a bit unreliable as it expires as soon as the router looses power.
This shows what the router is built for: A fixed setup. The device is simply not useful for traveling.
NAT, NAS
There is no NAS server.
Traffic monitoring
Nope. There are a lot of settings for filtering by IP address, time or even domain name. But no monitoring except a rough sum of traffic.
Reliability
Besides forgetting IP addresses, the box works in a lot conditions. You can save configurations and missconfigurations are usually correctable. The missing updates emphasize the low overall quality.
Local domain name
The DNS does not even lack a network domain but also ignores the device's hostnames. There is no way to reach a server in the network except by IP address. This leads to some usability and security issues.
GPIO
Nope.
Webcam
Nope.
Overall rating
The R36 wants to build a local network using different networks. But the designers forgot to allow fast switching between the networks. What remains is a simple Wifi router available in much better quality by a lot other brands.